The Station Gallery of Fenelon Falls
We are now closed until next spring.  We look forward to seeing you then!

The Station Gallery has closed its doors for the 2017 season.
Our cooperative artists greeted one thousand visitors to our historical building and art gallery this year.  Many of them purchased a treasure from our local, handmade selection of artwork making our business year an enjoyable and successful one.
Our beautiful Kawartha Lakes is becoming a popular vacation destination and we look forward to greeting our loyal customers and newcomers in the spring with fresh new work and art surprises.
Thank you to those that have supported our quaint little gallery and best wishes for a happy and safe holiday season!
2017 Fenelon Station Draw Winner!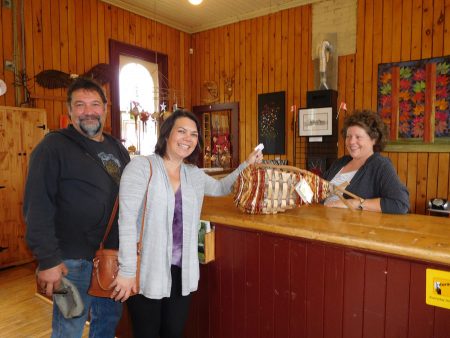 With assistance from artist Brenda Mulholland, Station visitors Hannah Lin and Dave Cureton pulled this year's winning draw ticket.  And the lucky winner of the Canada $150.00 draw…Sue Bandeen from St. Thomas, Ontario.   Congratulations!
stationgalleryfenelon@gmail.com
103 Lindsay Street
Fenelon Falls, Ontario