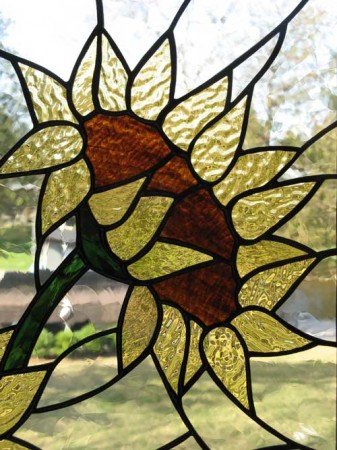 I was born and raised in Tillsonburg, Ontario. I lived on a dairy farm, but earned my university tuition picking tobacco. Art courses taken while attending the University of Guelph tweaked my drawing and design skills. After graduation, I enrolled in a stained glass course…eventually becoming the teacher! My skills improved while working part-time at a stained glass store in Pickering. From the windows of my studio, located just minutes from Fenelon Falls, I can watch wildlife and boats go by…it's a good life.
With the following pictures, I would like to show you the basic steps in putting together a stained glass window:
A full scale drawing of the pattern is made. This gives me and my client a chance to make any changes before assembly begins.
Picking out the glass: The glass chosen is dictated by the pattern, the amount of light that will filter through it, whether privacy is an issue, and cost.
Cutting the glass is not difficult, but the more exact/skilled you are at it, the faster you get through the next step.
Grinding the edges of the glass takes off any sharp edges and allows you to fine tune its shape.
Depending on the project, each piece of glass will be wrapped with copper foil or inserted into lead channels.
All of the pieces are then soldered together on both sides.
After thoroughly cleaning the window, I like to apply a black patina to the lead lines. This makes the pattern and glass colours pop. Like a car, I wax and buff the finished piece.
It's time to hold the panel towards the light, and admire it for a while!
[nggallery id=23]
Three years ago I started making jewellery. I crochet with a fine wire…adding gemstones, crystals, pearls and glass beads. Each piece is unique… I like to call it wearable art. I'm usually pleasantly surprised by the combinations that I choose…sometimes not! For some clients, I can make something new and stunning from their old, broken and sentimental pieces of jewellery. I also like to use beach glass and tumbled glass in my work.
I would like to thank my clients for giving me the opportunity to design and create some beautiful pieces…of glass and/or jewellery. I would really like to thank my family for putting up with all the "stuff" that is constantly covering all flat surfaces in our home!
Custom work is always welcome…whether it's stained glass windows, doors, lamps or jewellery. My studio is open year round by appointment.
Visit my page under Artists,  for contact information and more images of my work.