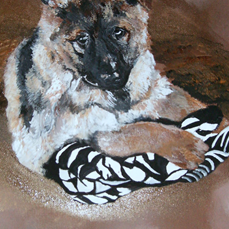 As always, life events affect my painting – and with the long winter this year, I have struggled to be motivated. I have painted and sold a record amount of pet portraits for the Christmas season, and many more requests for our popular Cardinals and Blue Jays on slate – I opted to complete one lately with both birds together. Sort of a short cut.
I am a little different with my paintings, I think. I like to incorporate metallic with my colours for special effect, and always like to add an unusual element to each of my works. Since framing can be costly, sometimes I add a painted frame or wooden corners to my finished work; it just lends a little bit of novelty.

Family and friends are always sending me ideas – and many times I incorporate two or more subjects into one piece of work.
I hope to take some scenic pictures around Fenelon Falls for my next projects – I love landscape and water scenes – and my little town has lots of those.
Looking forward to the Fenelon Station Gallery display this year – it is heart warming to see such beauty all in one historic building. See you there!
Janet Secord