My mum came from Aberdeen. Her mum was widowed when mum was two and they lived with 'Granny Davidson' until they came to Canada in 1923. My grandmother became a housekeeper for a wealthy family in Toronto. In other words, they had very little. Mum married eventually, but there was never any extra money. So the old saying 'Waste not, want not' was ingrained into us three kids at a very early age.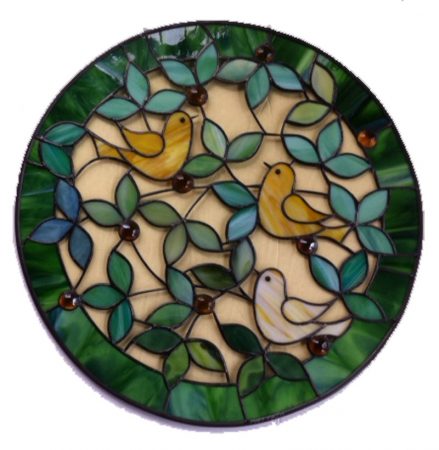 Mum was the queen of recycling! Christmas cards back then were folded in four, so if no long winded relative hadn't filled the whole card with writing mum would save the precious blank paper for us kids to draw and colour on with our broken bits of crayon. ( Crayola produced only eight colours back then – I'm old!)
So I guess the Scot in me can't throw away bits of coloured glass.  They end up, sorted by colour, in seventeen shoe boxes on a shelving unit in the sun porch. Periodically I use these scraps to create a unique panel or a number of sun catchers – small birds, flowers, snowflakes etc. The scrap supply is constantly replenished so I am always challenged to create something new. So thanks, Mum, for teaching us to recycle!
Mary Fraser Firth (note the middle name!)
Mary will be in the gallery again on the 2nd June.